We all know that a Kintra Turmeric Herbal Tea or a Turmeric Latte is a great healthy substitute for your morning coffee, however a recent article in GO Magazine has discussed the merits of Turmeric as a natural medicine. Below is an extract but you can read the full article here.
Another extract known for its medicinal action and centuries of research comes from the root of the Indian spice plant turmeric. Research on turmeric extends across centuries with traditional evidence culminating in modern research being published across language and cultural boundaries, by Indian, Chinese and English-speaking medical journals alike.

Used in traditional Ayurvedic medicine, turmeric root is indeed one of the most thoroughly researched plants we know; it has been the subject of over 5,500 clinical studies. It is known for its application in reducing pain associated with arthritis, and for its treatment of digestive conditions such as medically diagnosed irritable bowel disease. First used by traditional practitioners by crafting medicine made from the root itself alongside ghee and black pepper; modern turmeric extracts are manufactured using this early wisdom translated into extracts that provide beneficial extracts of this herb (and its active constituent curcumin) in an encapsulated form for ease of use.
Go Magazine Issue 46 2017
Kin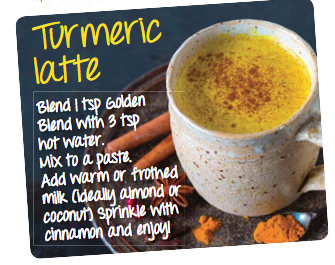 tra Foods offer two very different products containing turmeric. The Turmeric Herbal Tea is caffeine free and tastes delicious. The Turmeric Golden Blend is a powder containing ground turmeric root, ginger, cinnamon and black pepper. It has many uses including lattes, meat marinades, a natural flavour enhancer to casseroles, soups, baked vegetables. Why not try making a healthy snack which is perfect for school lunches or the afternoon work munchies (see our recipe page for our Crispy Turmeric Chickpeas)? Or warm up this winter with this fabulous Turmeric Latte Recipe, also featured in the latest issue of GO Magazine?