Energise
Loose Leaf Tea
Recharge and Revitalise with this energetic blend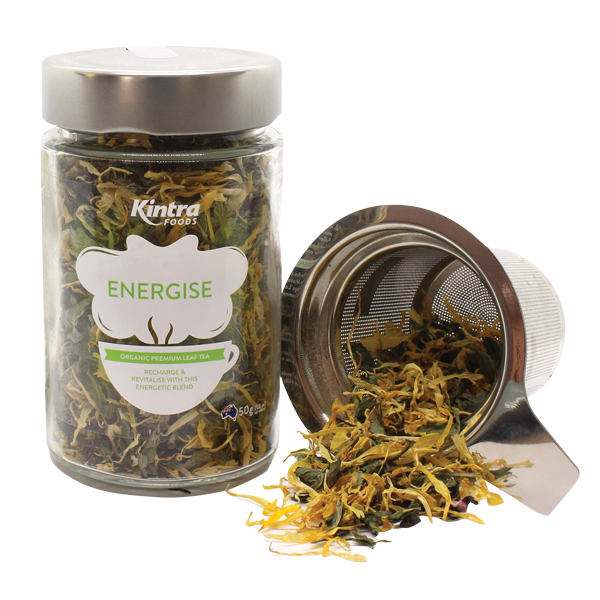 Kintra Energise Tea is available in a 50 gram glass jars
Kintra Energise loose leaf tea is the perfect guilt free pick me up for early morning or afternoon. Refreshing Peppermint, Hibiscus, Lemon Myrtle and Thyme leaf create a pleasing flavour and help promote increased mental alertness and focus. Traditional Medicine favourites Siberian Ginseng and Ginkgo Leaf have been used through history to reduce fatigue and promote energy.
For centuries Green Tea has been consumed by indigenous peoples for its health benefits. Formosan Green tea will provide the body with energy boosting caffeine and has the added advantage of being high in healthy antioxidants. In addition, the ingredients contain compounds that are said to slow the absorption of caffeine, meaning the energy delivered is more sustained and free of the  jitters or withdrawals that you would normally get from a cup of coffee. 
So pour  yourself a cup of our Energise loose leaf tea and enjoy the energy boost you crave without the need for coffee, energy drinks or sugar.
Preparation:
Teapot and strainer
Place 2 generous teaspoons of the Energise tea blend per serve into a teapot or tea strainer.
Add boiling water and infuse for 2-5 minutes and swirl.
Longer infusion releases fuller flavour and herbal benefits.
Can be enjoyed hot or cold.
Ingredients: Organic Herbs (Peppermint, Hibiscus, Thyme Leaf, Siberian Ginseng, Calendula Petals, Ginko Leaf, Lemon Myrtle), Formosan Green Tea, Lemon Oil.
If you have any health concerns, are pregnant or taking medication please consult your health care professional prior to consuming any herbal product.
You may also like to try...