Begin the day with this robust smooth blend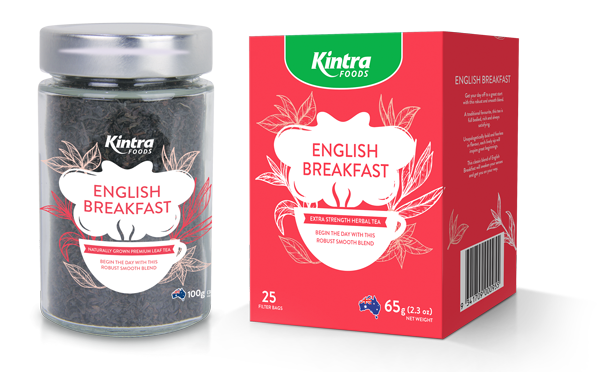 Kintra Foods English Breakfast Tea is available in packs of 25 filter bags for your convenience or in our reusable 100g glass jars for those who enjoy the loose leaf variety.
Get your day off to a great start with this robust and smooth blend.
A traditional favourite, Kintra English Breakfast tea is full bodied, rich and always satisfying.
Unapologetically bold and fearless in flavour, each lively sip will inspire great beginnings. The classic blend of English Breakfast will awaken your senses and get you on your way. 
English Breakfast is rich in minerals, antioxidants and flavonoids which are known to be beneficial for heart health.
The L-theanine and caffeine (less than half that of coffee) contained within its leaves provide increased focus and attention and leave you refreshed and ready for the day.
English Breakfast is rich in both colour and flavour and never disappoints.  
Preparation:
Place filter bag in cup or place 2 generous teaspoons of the English Breakfast per serve into a teapot or tea strainer.
Add hot water and infuse for 2-3 minutes and stir.
Longer infusion releases fuller flavour and benefits.
Add milk, honey or sugar to your preferred taste. Use soy milk for a dairy free alternative.
Ingredients: Naturally grown English Breakfast Tea.

If you have any health concerns, are pregnant or taking medication please consult your health care professional prior to consuming any herbal product.
You might also like to try...