Kintra Foods Lemon & Ginger With Manuka Honey Tea
An organic fusion of spicy and sweet.
Caffeine Free  |  Lactose Free  |  Gluten Free  |  Preservative Free  |  100% Natural
Take time out from your busy day to enjoy a cup of Kintra Lemon & Ginger With Manuka Honey tea and feel your worries slip away.
This intense and delicious Kintra tea blends zesty organic lemon, organic slow dried ginger root, manuka honey and other herbs & spices to leave you feeling warm & cosy. Aside from being a delicious and refreshing beverage, the combination of organic lemon, ginger and manuka honey is said to have wide ranging health benefits. Enjoy the soothing sweetness of manuka honey which may provide welcome relief from cold and flu symptoms. The strong and spicy aroma can also relax and refocus the mind. Try our Lemon & Ginger with Manuka Honey tea today for a sweet treat with a ginger kick!
Kintra Foods Lemon & Ginger With Manuka Honey Tea
is sold in convenient packs of 25 filter bags (65g).
Ingredients: Organic Ginger Root, Organic Lemon Verbena Leaf, Licorice Root, Organic Fennel Seed, Manuka Honey Powder, Organic Elderflower, Organic Turmeric Powder, Lemon Essential Oil, Organic Lemon Myrtle Leaf, Black Pepper.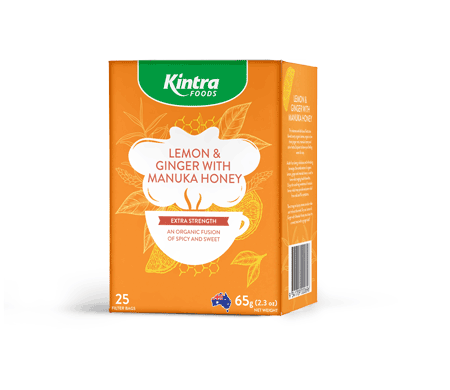 You might also like to try...