Lemongrass & Ginger
with Lemon Myrtle
Recharge with this refreshing vibrant blend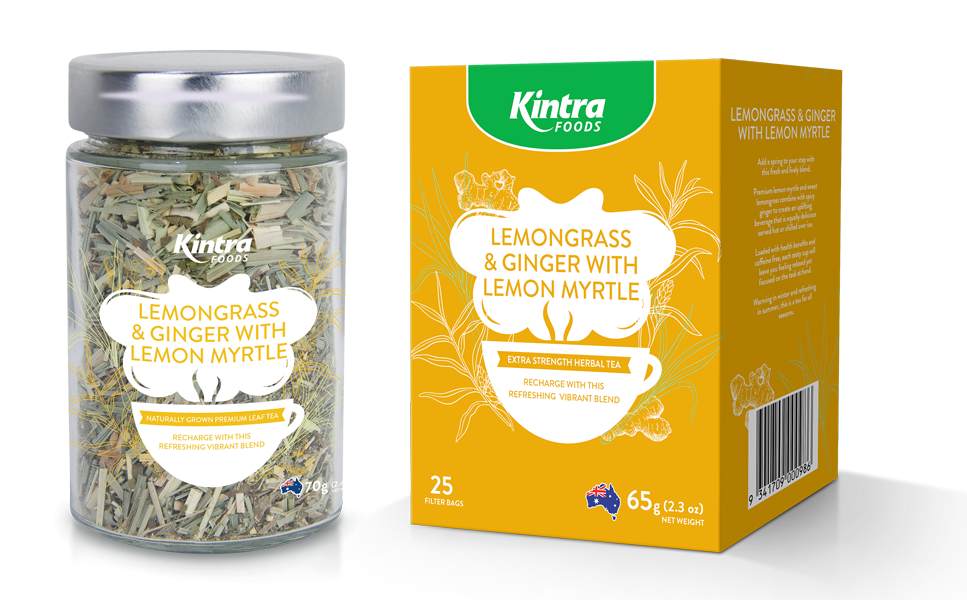 Kintra Foods Lemongrass and Ginger with Lemon Myrtle is available in handy packs of 25 filter bags or in our reusable 70g glass jars for those who enjoy brewing up a pot.
Add a spring to your step with this fresh and lively blend.
Premium lemon myrtle and sweet lemongrass combine with spicy ginger to create an uplifting beverage that is equally delicious served hot or chilled over ice.
Fragrant lemongrass invigorates the senses and has been used throughout history to treat anything from insomnia, to fever, respiratory issues and infection. Ginger is also thought to have immune boosting effects and improve digestion. We've rounded out the flavour with Australian native Lemon Myrtle which has been traditionally used for its antiseptic, anti-inflammatory and antibacterial properties.
Loaded with antioxidants and caffeine free, each zesty cup of Lemongrass & Ginger with Lemon Myrtle tea will leave you feeling relaxed yet focused on the task at hand.
Warming in Winter, refreshing in summer, this is truly a tea for all seasons.
Preparation:
Place filter bag in cup or place 2 generous teaspoons of the Lemongrass and Ginger with Lemon Myrtle 

per serve into a teapot or tea strainer.

Add hot water and infuse for 2-3 minutes and stir.
Longer infusion releases fuller flavour and herbal benefits.
Can be prepared and enjoyed as a hot or cold beverage
Ingredients: Organic Lemongrass, Organic Lemon Myrtle and Ginger

If you have any health concerns, are pregnant or taking medication please consult your health care professional prior to consuming any herbal product.
You might also like to try...