Enjoy this elegant and fragrant blend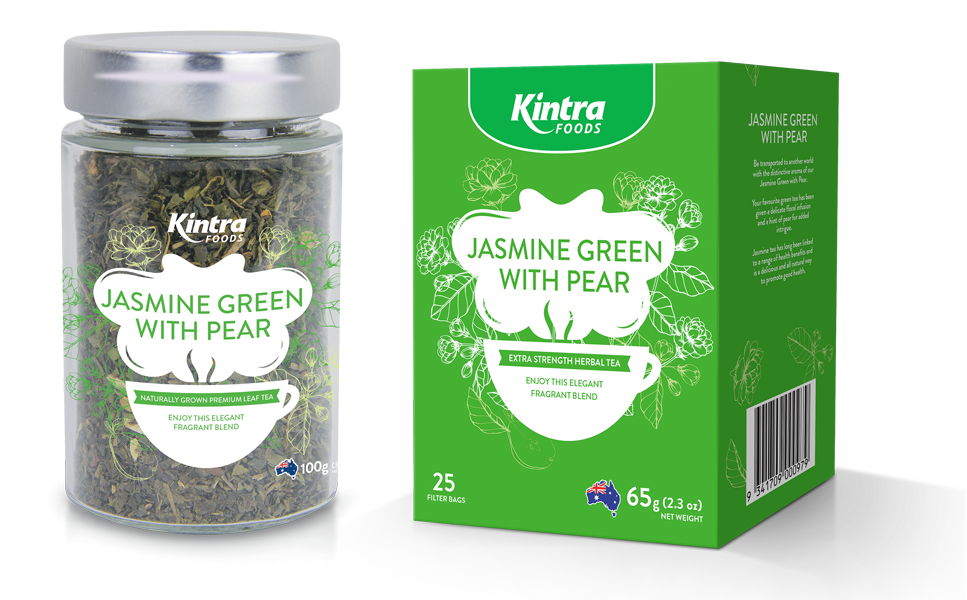 Kintra Foods Jasmine Green with Pear is available in packs of 25 filter bags for your convenience or in our reusable 100g glass jars for those who enjoy the loose leaf variety.
Be transported to another world with the distinctive aroma of Kintra's Jasmine Green with Pear.
Our organic Jasmine tea is delicately scented with the aroma of Jasmine blossoms resulting in a drink that is mildly sweet and intoxicatingly fragrant. We've then added a gentle hint of pear for intrigue and flavour. Each sip is a journey for the senses.
All of our teas are made with a purpose in mind, and Jasmine Green with Pear is no exception. Jasmine tea has long been linked to a range of health benefits and every cup is bursting with antioxidants. Gently caffeinated, this opulent blend will leave you feeling alert yet relaxed with its soothing fragrance.
Jasmine Green with Pear is a delicious and all natural way to promote good health and it's appealing flavour makes it easy to add a cup to your daily diet.
When brewing, water should be very hot but not boiling as this can compromise the delicate flavour of the tea.
Preparation:
Place filter bag in cup or place 2 generous teaspoons of the Jasmine Green with Pear per serve into a teapot or tea strainer.
Add hot water and infuse for 2-3 minutes and stir.
Longer infusion releases fuller flavour and benefits.
Can be prepared and enjoyed as a hot or cold beverage
Ingredients: Organic Jasmine Green Tea and Freeze Dried Pear

If you have any health concerns, are pregnant or taking medication please consult your health care professional prior to consuming any herbal product.
You might also like to try...